Toronto Subway Map
Toronto Subway Map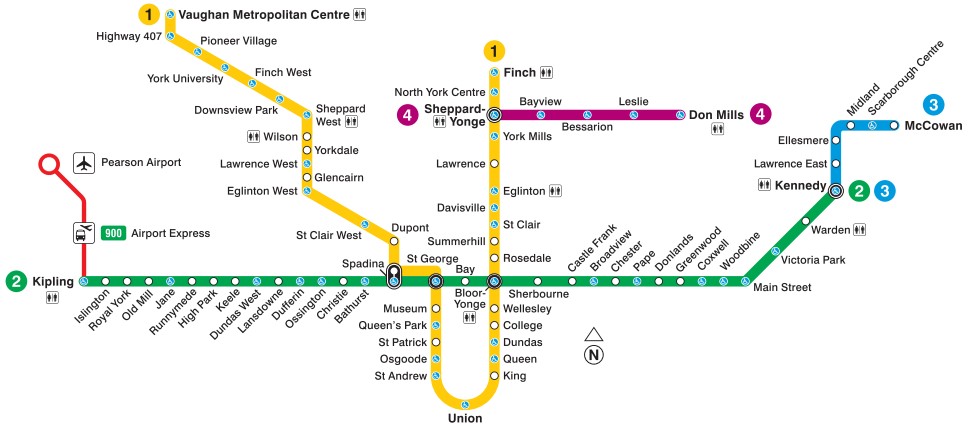 Subway Hours of operation
Weekday and Saturday service approximately 6 a.m. to 1:30 a.m.
Sunday service approximately 8 a.m. to 1:30 a.m.
Holiday start times vary.
TTC Contacts
Information: 416-393-4636
Customer Service: 416-393-3030
Subway Lines and Stations
Line 1: Yonge-University Line
Line 2: Bloor-Danforth Line
Line 3: Scarborough Line
Line 4: Sheppard Line
Yonge-University Line
Vaughan Metropolitan Centre
Highway 407
Pioneer Village
York University
Finch West
Downsview Park
Sheppard West
Wilson
Yorkdale
Lawrence West
Glencairn
Eglinton West
St Clair West
Dupont
Spadina
St George
Museum
Queen's Park
St Patrick
Osgoode
St Andrew
Union
King
Queen
Dundas
College
Wellesley
Bloor-Yonge
Rosedale
Summerhill
St Clair
Davisville
Eglinton
Lawrence
York Mills
Sheppard-Yonge
North York Centre
Finch
Bloor-Danforth Line
Kipling
Islington
Royal York
Old Mill
Jane
Runnymede
High Park
Keele
Dundas West
Lansdowne
Dufferin
Ossington
Christie
Bathurst
Spadina
St George
Bay
Bloor-Yonge
Sherbourne
Castle Frank
Broadview
Chester
Pape
Donlands
Greenwood
Coxwell
Woodbine
Main Street
Victoria Park
Warden
Kennedy
Scarborough Line
Kennedy
Lawrence East
Ellesmere
Midland
Scarborough Centre
McCowan
Sheppard Line
Sheppard-Yonge
Bayview
Bessarion
Leslie
Don Mills
Frequently Asked Questions (FAQ)
Where does the Toronto subway run?
This Subway line starts from Vaughan Metropolitan Centre (Vaughan) and ends at Finch (Toronto). It covers over 38 km and has 38 stops. The shortest line is: 4. This Subway line begins from Leslie (Toronto) and finishes at Don Mills (Toronto).
How many subway trains are there in Toronto?
Number of vehicles: 858 heavy rail and light metro cars 66 work cars. Train length: 6 cars (Lines 1 and 2), 4 cars (Lines 3 and 4), 3 cars (Line 5).
Does the Toronto subway run 24 hours?
The subway operates from approximately 6 a.m. to 2 a.m. Monday through Saturday and approximately 8 a.m. to 2 a.m. on Sundays. Exact times vary by station.
How expensive is the subway in Toronto?
Fare pricing, Cash, Single fare: Adult - $3.25, Senior (65+) or Youth (13-19) - $2.30. There are also other fare type: PRESTO (pay-as-you-go), TTC Monthly Passes. More information on ttc.ca
How fast does the subway go in Toronto?
Average speed: 17.4 mph (28 km/h) Maximum speed: 55 mph (88 km/h).
What is the oldest subway station in Toronto?
Davisville station. Opened March 30, 1954.
Can I pay cash on TTC subway?
You can still pay your fare with TTC tickets, tokens or cash.